Tru Miller recommends:
a legendary vintage
Heavily influenced by El Niño's atmospheric conditions, the 2016 vintage was particularly exquisite. These are our favorite wines, on sale while supplies last:
WE'VE BEEN
delighting palates

SINCE 1997
ADOBE GUADALUPE IS MORE THAN JUST A WINERY. ITS TIMELESS ELEGANCE IS A TESTIMONIAL TO THE SERENITY AND NATURAL WONDERS OF LIFE IN THE VALLEY.
We believe in creating a milieu of harmony where our guests can reconnect with themselves and with nature: A unique experience accompanied by wine, haute cuisine, horseback riding, spectacular sunsets, and a warm friendly environment.
Adobe guadalupe is a mother's
His life, both brief and full, was marked by a fascination with the Mexican soul. This is a place to honor and celebrate his love for this land, for the rest of eternity.
IT ALL BEGAN WITH A
YOUNG MAN NAMED
It was the out-of-placeness of the images that struck the Millers the most.
The first signs came shortly after Arlo's passing. A Mexican sarape draped over a chair, just outside the doorway of the Notre Dame Cathedral in Paris. They knew their son was calling, but the message was unclear to them.
A couple of years later, Tru and her husband Don returned to Europe to look for a place to lay Arlo's ashes. Remembering the bizarre coincidence, they went back to Paris to find out not only the Mexican sarape was still there, but that it was now part of a side-altar dedicated to the Virgin of Guadalupe.
It was then that Arlo's call was finally heard and both Tru and Don envisioned clearly how they would spend the rest of their days in Mexico. A feeling of peace and destiny overtook the Millers; it was evident their son's spirit would much rather rest, aside their own, in warm soil.
Come and experience that sense in Adobe Guadalupe: That ineffable aura of serenity and spiritual peace that comes from a dream finally fulfilled.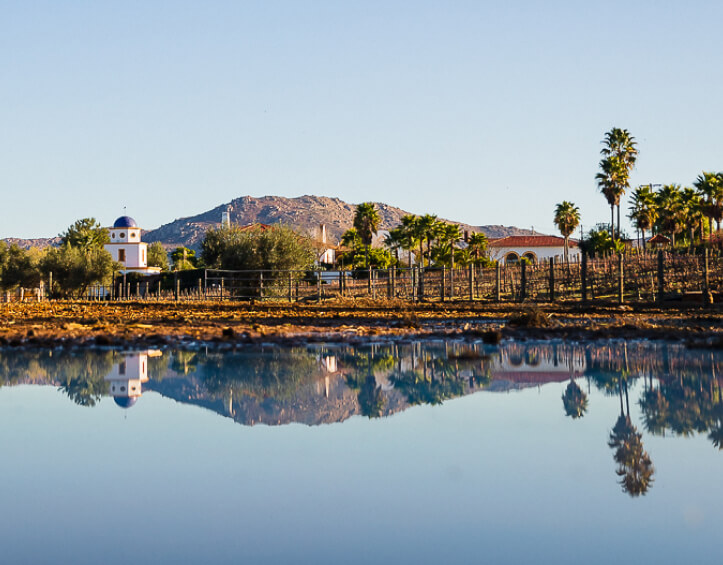 Whether you are looking to savor our superb wines, dine in old-World splendor or just take a casual bite al fresco, let your senses experience a true feast at Adobe Guadalupe. Take some well-deserved time, surrounded by mountains and our lush pomegranate and olive tree gardens.
Let one of our well-trained house-bred Azteca horses guide you through some of the most picturesque terrains and vineyards at the Valle de Guadalupe.
Parcela A-1 S/N, Valle de Guadalupe
22750, Ensenada, Baja California, MX